Getting the Ball Rolling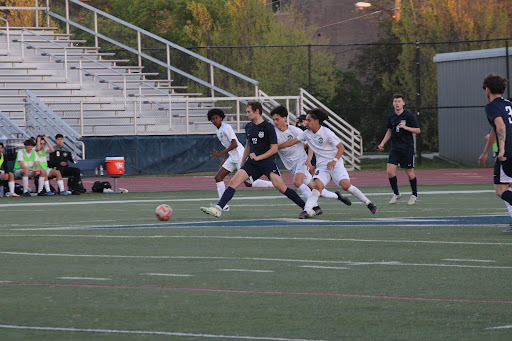 Win or lose, both the girls' and boys' varsity teams appear to be having fun, according to members of the teams.  Whether for practice or a game, the varsity soccer teams always bring their A-game! The record for each team was 5-0-3 for the girls' varsity team, and the boys' record was 6-3-2.
"[This season] is going great, this is my first year playing [with] WL soccer," sophomore and girls varsity right midfielder Emma Abramson said. "I tried out [for the team] not really knowing what to expect…I love the team, and we all bond really well, and I've been having a lot of fun." 
Abramson had not played club soccer before either, yet she decided to try out for the team and made varsity. She is very happy she tried out. 
"I kind of thought I was gonna make [JV]," Abramson said. "I don't play club or anything, so making varsity was definitely a surprise. I'm really happy that I made varsity because I'm with all of my friends… it's definitely a bigger jump going from not playing club to playing on varsity."
Like Abramson, senior captain and goalie for the boys' varsity soccer team, Sassan Fiske also started on varsity as a sophomore. 
"[Going] straight to varsity in my sophomore year was slightly intimidating," Fiske said,  "I didn't get a lot of playing time and was playing against guys that were two years older than me, but I had a lot of fun."
While Abramson and Fiske started on the varsity team, most people start on the JV team before moving up to varsity. 
"This season is definitely different from last year's season just because of the change from JV to varsity," sophomore and girls varsity center-midfield player Alina Sagatov said. "There is so much more of a family environment on varsity. I feel the girls are all connected and feel comfortable around each other."
A favorite moment from the season for Abramson was when the girls' varsity team beat Wakefield. 
"I definitely think beating Wakefield was a good memory so far because we were tied the whole game, and then we scored at the end," Abramson said. "It was just a really big relief, we were all really happy. It really connected us as a team and we built up more confidence."
However, playing a varsity sport can make it difficult to balance school and sports. 
"Some nights it definitely is difficult to balance," Fiske said. "I'll have to play a game that doesn't end until 9 or 9:30 and then go home and study or complete assignments late into the night."
Even if it is difficult, they make it work. 
"I think managing school and soccer is good for me because, personally, I need to do something before I go back to schoolwork," Sagatov said. "I have always had club soccer and sports after school, and those are the things that really keep me going and motivated throughout the school day. I really look forward to them. I think everyone needs to balance doing things they love [with] schoolwork, and soccer is that for me."
Overall, this season was good for both the girls' and boys' varsity teams according to the players.
"I definitely recommend trying out for soccer if you want to, or if you've been debating whether or not to," Abramson said. "It's really fun and you will do really fun things on and off the field."
Leave a Comment