Plans for middle school boundaries disregard demographics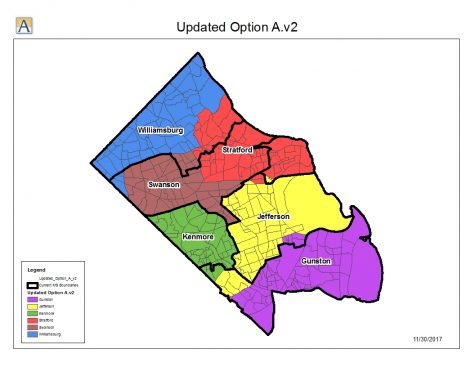 Middle school boundaries are in the process of being changed by the Arlington County School Board due to overcrowding and the addition of a new middle school. The change is made in the shadow of the board's previous high school redistricting plan, and much like the high school change, worsens the state of demographics in schools. This new plan (Figure A) prioritizes proximity, but in doing so ignores the state of Arlington's demographics.
When considering options for a boundary change, the school board claims that they are looking into factors such as "stability, contiguity, alignment, proximity, efficiency, and demographics". However, in Arlington, proximity and demographics are issues that often clash. "I'm sympathetic of what the school board is up against, and that is that if you value proximity, by definition of our demographics, it's pretty difficult to value diversity," a Claremont parent said. "Those two things are often competing."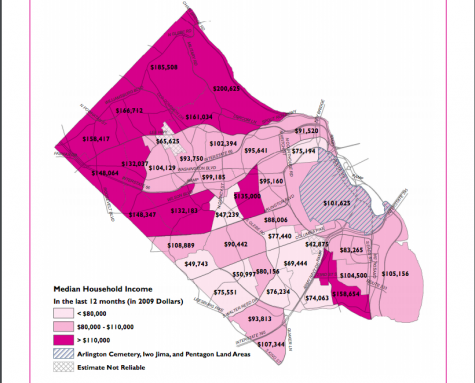 Figure B, found on Arlington County's website, displays median household income in various parts of the county. In northern Arlington, the average household income is $110,000 in a year, whereas in the south, the population averages much lower, with the lowest neighborhood averaging $42,875 per year. Arlington is wealthier in the north and more economically disadvantaged in the south, therefore, it is impossible to have diverse demographics if you prioritize proximity, and vice versa.
Although all middle schools receive equal resources, there is still an economic divide between their respective student populations. For example, Kenmore Middle School is currently 49 percent economically disadvantaged (determined by the percent of students qualifying for free and reduced lunch), whereas Williamsburg is currently 9 percent economically disadvantaged. Williamsburg appears to sit in the large pocket of wealth in northern Arlington, and their percentage of white students directly correlates to their wealth, as evidenced by Table 1. In contrast, Kenmore, Gunston, and Thomas Jefferson appear to feed from more economically disadvantaged areas, and are more diverse. The school board has, thus far, been unable to balance the economic and diversity imbalance in Arlington schools.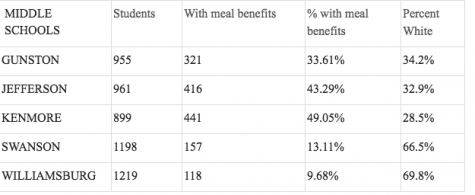 The plan the school board is currently considering was made in an effort to insure students are walking distance from their school. In the plan, the boundaries will be reshaped so that 55 percent of students will be able to walk to their middle school. This is important to the public, as evidenced by the feedback received by the county from the community. "I am easily within walking distance to Swanson," a piece of anonymous feedback on the county website said. " ([I live in]Dominion Hills) and I want my kids to be able to walk to school."

However, while proximity is a benefit to the plan, it continues to enforce the economic divisions in place. The boundaries will still move from South to North, so some schools will continue to experience a lack of diversity. The school board cannot continue to allow schools to have such a gap in percentage of economically disadvantaged students. "If the number [of economically disadvantaged students at Kenmore] were to rise, I think it would be a poor decision on the part of the school board." Former Washington-Lee student and Kenmore parent David Cloe said.
Denying students in Swanson and Williamsburg the opportunity to learn in an economically diverse school alters their perspective about what diversity looks like, and the wealth at the schools forms an elitist atmosphere. Their cultural education and experience at school is much different than that of students at Kenmore, Gunston, or Thomas Jefferson. "One of the most important parts of education is developing social skills and empathy." the Claremont parent said, "and if you're only going to school with people who are just like you, chances are that part of your education is going to be deficient."
If APS really wants to honor diversity in the county, they have to be willing to make difficult choices. "Diversity often comes with some hard decisions…and if we really believe that diversity is a value in our community, then that is going to mean that there are some people who will be inconvenienced and who will be uncomfortable," the Claremont parent said. "So, you either accept that, and stand by your promise of diversity, or stop saying that you care about it."
While it's understood that the plan intends to solve many problems that have emerged with the growth of Arlington County, the school board cannot continue to ignore the importance of balanced demographics. This issue will have a direct impact on the W-L community, because as new students feed in, they will be the product of their education in middle school. In the high school redistricting plan, demographics were pushed aside as well. Having diverse schools is not an admirable goal; it's essential. It is an issue that may be hard to solve, but must be tackled.  As one citizen anonymously stated to the county on the issue of demographics, "Meaningful change is never convenient."  We must reflect on actual solutions to this problem, even if it is challenging.  
For updated APS info please go to https://www.apsva.us/engage/middle-school-boundary-change/

and https://www.apsva.us/post/school-board-approves-middle-school-boundary-adjustments-prepare-new-school/
APS free and reduced priced meal statistics https://www.apsva.us/statistics/free-and-reduced-price-meals/
and Civil Rights statistics https://www.apsva.us/wp-content/uploads/2014/11/Civil-Rights-Table-1-2016-11-30-web.pdf

Citations
"Arlington Public Schools." Arlington Public Schools, www.apsva.us/.
Leave a Comment