Knead a new dessert place? Try Eclairons.
[slideshow_deploy id='8699′]
Eclairons is a family-owned French pastry shop that first opened September 2020. It is located in the Colonial Village Shopping Center in Rosslyn. Here, you'll find a variety of drinks, breakfast and lunch options, as well as cakes, cupcakes and pastries. They do not deliver yet so pastries must be purchased at the bakery. 
As a dessert-lover myself, I was very curious about what Eclairons offered, so I set out to try a few items. I went in the early afternoon on a weekend and it was not crowded at the time. I do, however, recommend getting a box of treats to go because there are only two tables outside to sit at.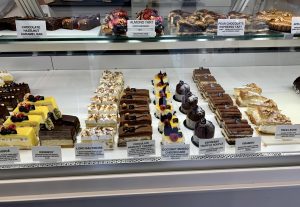 When I walked into the store, the case with croissants, scones and muffins was the furthest to my left. Next to it was the case full of cupcakes, and the third — and largest — section was filled with pastries. I bought five items to try — two cupcakes and three pastries. I was inspired to pick up the Dulce de Leche cupcake after reading a positive Yelp review, and I thought it would be helpful to compare it to another cupcake. For the pastries, I wanted to get a mix of chocolate and non-chocolate items, since chocolate is on the richer side, and fruits are often preferable when you want a lighter dessert. All items are listed in the order in which I sampled them. For reference, cupcakes are about $4.25 a piece and pastries are roughly $6.50 a piece.
Cupcake 1: Dulce de Leche (cupcake on left)
Contains: Vanilla cake, dulce de leche filling and caramel buttercream frosting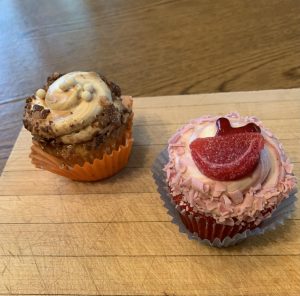 I started off with this cupcake and gave it high marks. The cake was fluffy and the icing was sweet and on the richer side. I also enjoyed the little crunchy sprinkles resting on the top. My favorite part of this cupcake was the dulce de leche filling in the center, which gave it a caramel-like flavor. Dulce de leche is generally made with sweetened condensed milk and sugar, so you won't have to worry about the stuck-in-your-teeth feeling you might find with a large dollop of caramel. There was a healthy amount of dulce de leche inside the cupcake, and you could definitely get a bit of it with each bite.
Cupcake 2: Strawberry (cupcake on right)
Contains: Strawberry cake and strawberry cream cheese frosting
While the presentation for this cupcake is inviting and playful, the cupcake itself was less favorable than the other. The candied strawberry on top was a very fun edition, but I was looking for a stronger strawberry flavor throughout. I was a bit disappointed to see that this cupcake did not have any strawberry filling, in contrast to the Dulce de Leche cupcake.
Pastry 1: The Alexandria (first pastry from front)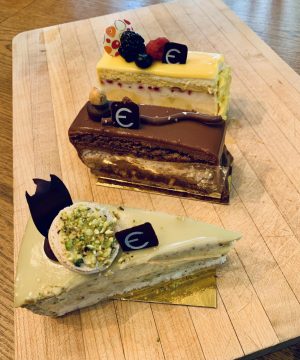 Contains: Almond coconut macaron, pistachio cream and white chocolate pistachio glaze
This pastry was absolutely scrumptious. While the white chocolate glaze might sound overly sweet, that was not the case here. I found that the white chocolate glaze really helped balance out the slight saltiness you get with pistachio. This pastry was also very light, so it could easily be enjoyed after a large dinner without making you feel overly full. The pistachio flavor itself was subtle, but still evident. I thought the little crunchy layer of crushed macaron at the bottom of the pastry was delicious as well, as it helped add a bit of sweetness and offer a different texture.
Pastry 2: Chocolate Hazelnut Caramel (middle pastry)
Contains: Chocolate cinnamon crust, caramel and toasted hazelnuts, praline buttercream, almond cake, chocolate genoise and chocolate mousse
This pastry was also wonderful. The caramel flavor was present, but I found the chocolate and hazelnut flavors to be a bit stronger. There were hazelnuts in the ganache and chopped up at the bottom, which brought some bitterness that cut through the sweetness of the caramel. The cake was soft and light, much like the cake layer in the Alexandria. For me, this pastry was fairly rich due to the chocolate and caramel, so I would advise splitting it with someone or just not eating it immediately after a large meal. Regardless, I would not hesitate to buy this pastry again!
Pastry 3: Passoã (third pastry from front)
Contains: Passoã syrup, white chocolate mousse, raspberries, passion fruit mousse and white chocolate passion fruit glaze
I love passion fruit, so I just had to save this one for last. This one did not disappoint, and it is safe to say that it was my favorite out of the five. Like the other pastries, it was also light and airy. The acidity from the passion fruit gave it such a delightful, bright flavor. There was a bit of tartness to each bite, thanks to the passion fruit mousse and thin layer of jam, but the tartness balanced out well with the whipped cream and white chocolate passion fruit glaze. In my opinion, this pastry is a must-have if you are looking for something that reminds you of summer. 
Overall, I thoroughly enjoyed the items I got from Eclairons. I will say that if you come to Eclairons, I would buy the French pastries over the cupcakes. However, if you choose to buy cupcakes to share, keep in mind that they are on the smaller side. They are just the right size for one person, though. Price-wise, Eclairons can get expensive quickly when you purchase several pastries, but I definitely think it is worth it for a special occasion. Ultimately, if you find yourself in the mood for a sweet treat, Eclairons certainly won't disappoint. 
Eclairons 
Please remember to bring and wear your mask if you visit!
Address: 1737 Wilson Blvd, Arlington, VA
Hours: 8 a.m. to 6 p.m. Monday through Friday, 9 a.m. to 6 p.m. on weekends
Prices: Cupcakes are about $4.25 a piece and pastries are roughly $6.50 a piece.
Instagram/Facebook: @Eclairons
Leave a Comment