Students spend time with younger siblings during COVID-19 pandemic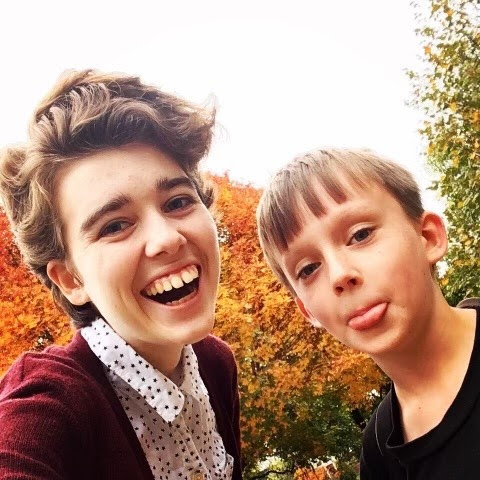 If there's a silver lining to COVID-19, it is that the lockdown has resulted in most people spending more time with their families, after not being able to travel outside of the house and having to share school days in the same house. Sometimes, having to deal with online learning and younger siblings can be straining, with more difficulties for both members of the family. Other times, the increased time at home can lead to more opportunities for family time and activities. 
"I tended not to play around with [my younger siblings] because I always had homework to do or clubs to go to, but then after the pandemic we had a lot of time together, especially since I finished school a lot earlier," senior Jennifer Lopez, who has two younger brothers, said.
Students also have been more available to babysit or help their siblings with homework, which has put an additional work strain on some.
"It's weird because now I'm like a teacher to my siblings, sometimes," senior  Alana McBride, who has a younger brother, said. "I may have helped them with their homework in the past, but it wasn't an everyday occurrence. The added 'benefit' of watching a kid around lunchtime is that you have to make some lunch. My brother [Nathan] has a very limited palette of chicken nuggets. There's definitely been times where I've been like, I don't want to make chicken the 16th day in a row."
And because of that and all the work to be done in this challenging year, it can sometimes be harder to find time to be with people. 
"Sometimes [my sister will] call me and I'll be in a class, and she just needs help, and sometimes I just run from my computer to her," senior Kimberly Peche, who has one younger sister, said.
Despite these moments, students said the lockdown has been a great opportunity for many to learn more about their families. 
"My brother is working on writing, and he's writing an article about his interests," McBride said. "One of his interests is Blackpink, the K-Pop group. It's been absolutely fantastic helping him research and write that essay for a grade, because it's so much easier than what I'm doing and it's also fun to watch kids slowly learn and grasp concepts and things they really enjoy." 
Sometimes, fun can be found at home in family activities instead of on a trip like one might have done pre-COVID-19. 
"We got a trampoline during the pandemic, so we go to the trampoline every once in a while to go jump on it, all four of us," Lopez said.
Even despite restrictions, there are options for entertainment and bonding while stuck inside that can be taken advantage of.
"[My sister] always liked to go outside, now she usually stays inside," Peche said. "I've gotten to share older series TV series with them. Because now she's 12, and so we've watched more adult shows together. I think our favorite right now is 'Attack on Titan.'"
No matter how much has gone poorly during these especially difficult times, students said it is worth thinking about the better things that happened over the past year.
"[Nathan] said he liked being online better, because people at home help him more than they do at school," McBride said.  "That made me feel very good about myself."
Leave a Comment