Generals in film: Stan Winston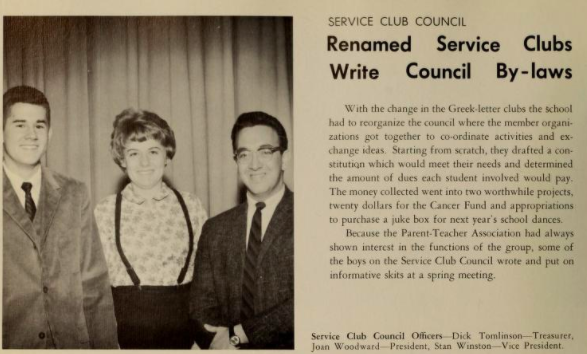 One of the school's most famous alumni is somebody you have probably never heard of before. Stan Winston, one of the most acclaimed special makeup effects creators of all time, was co-leading the service club at Washington-Liberty only eight years before he won his first Emmy.
Winston was born in Arlington in 1946, and graduated from Washington-Liberty in 1964. He studied painting and sculpture at the University of Virginia, and attended California State University, Long Beach after graduating. In 1969, Winston moved to Hollywood with the goal of becoming an actor. However, after experiencing little success in that field, he began working as an apprentice for prominent makeup specialist Robert Schiffer – a makeup artist whose work was featured in movies such as "The Wizard of Oz" and "TRON" – at Walt Disney Studios. This career shift was caused by necessity, as he needed to support his young family, but also his childhood fascination with puppetry and mask making.
In 1972, Winston founded his own company, Stan Winston Studio. His first official credit appeared shortly after the founding of the studio, in the 1972 movie "Gargoyles." The low-budget horror TV-movie didn't make much of a impact, but it gave Winston his first Primetime Emmy for Outstanding Achievement in Makeup, along with Del Armstrong (who would soon work in the 1975 smash-hit "Jaws") and Ellis Burman Jr. (whose work would appear in "Back to the Future Part II" and "The Goonies.")
Winston consistently found work throughout the next decade, but was still mainly working on TV shows and B-movies (notably, Winston is credited in the universally panned "Star Wars Holiday Special.") Despite an initially negative reception, John Carpenter's "The Thing" has become landmark in horror, especially noted for its grotesque and shocking special effects. Winston was tasked with creating the "Dog-Thing," a puppet so gruesome that including a picture might prevent this story from being published. Winston refused to be credited for his work, saying that credit should instead be given to lead designer Rob Bottin. However, Bottin felt a need to acknowledge Winston's hard work on the film. As a result, Winston is the only person to receive a "thank you" for their help with the film. 
A new chapter of Winston's career began in 1984, with his work in "The Terminator." Director James Cameron originally offered the job to renowned makeup artist Dick Smith ("The Godfather," "The Exorcist," "Taxi Driver"), but Smith instead suggested his friend Stan Winston. Winston had a team of seven artists work for six months to create a Terminator puppet, a chrome-plated structure for which Winston sculpted models of Arnold Schwarzenegger's face in several expressions using silicone, clay, and plaster. The surprise success of the film propelled Winston into the spotlight of his field. His next collaboration with Cameron two years later with "Aliens" earned him his first Academy Award, and thus began Winston's prime. In the following years, he earned Oscar nominations for his work in "Predator" "Edward Scissorhands," "Terminator 2: Judgement Day," "Batman Returns," and "Jurassic Park." Winston won three of those nominations, two of which were for "Terminator 2" and one for "Jurassic Park." 
While Winston continued to work on more well-received films ("A.I. Artificial Intelligence," "Big Fish"), his work began to result in more box-office success than critical acclaim ("Avatar," "Indiana Jones and the Kingdom of the Crystal Skull.") Combined, the worldwide box office grosses of Winston's lifetime work adds up to a stunning $12.7 billion dollars.
Winston passed away in 2008 in Malibu, California. Arnold Schwarzenegger made a public speech about his death, and his family founded the Stan Winston School of Character Arts in his memory. Winston has been credited in 221 projects, some of which are still to be released, and has worked among directors such as Tim Burton, James Cameron, John Carpenter, and Steven Speilberg.
Looking back at Stan Winston's career achievements, it's impossible to deny that – outside of the film industry – he has received nowhere near the amount of praise an actor or director with a similar catalogue would. The lack of appreciation given to the thousands of costume designers, writers, composers, editors, cinematographers, makeup artists, hair stylists, and visual effects supervisors is in stark contrast to the massive amount of media attention that many actors receive. So the next time you watch a film where any aspect of the production really sticks out to you, take a minute to look into the people who give movies the incredible qualities that we often take for granted.
Notable films of Stan Winston's Career:
The Thing (1982)

The Terminator (1984)

Aliens (Oscar Win) (1986)

Predator (Oscar Nomination) (1987)

Edward Scissorhands (Oscar Nomination) (1990)

Terminator 2: Judgment Day (Oscar Win) (1991)

Batman Returns (Oscar Nomination) (1992)

Jurassic Park (Oscar Win) (1993)

The Lost World: Jurassic Park (Oscar Nomination) (1997)

A.I. (Oscar Nomination) (2001)
Leave a Comment