Brighter future after "Light the Night" event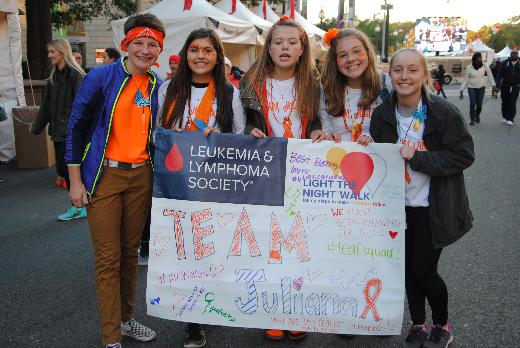 Hang on for a minute...we're trying to find some more stories you might like.
On October 15, the Cancer Education and Action Club (CEA) took its members to the Freedom Plaza in Washington, D.C. for the annual Light the Night Walk to raise money for research towards leukemia and lymphoma. This was the club's biggest event of the year, and members raised a total of $5,473.
The Light the Night walk is a fundraising event held every year in which different organizations and teams attempt to raise money for the Leukemia and Lymphoma Society by getting pledges to complete a five kilometer walk. "There's all these booths set up from different companies and teams," club president Julia Elman said. "They all get pledges for this common goal of trying to beat leukemia and lymphoma, which is pretty special."
Even though the event isn't new, returning members were enthusiastic to raise as much money as they could and were happy to also participate. "We're going to walk with the team and hold these really cool lanterns, and it's just this amazing community of support," Elman said. "It's just all of these people here for the same common goal to find a cure, which I love every time I go."
The CEA walks every year in honor of Team Juliana, a W-L student who passed away last year from the disease. Elman, who was friends with the student, has a personal connection with the program. "I was handed this club off by last year's seniors," Elman said. "It was because I wanted to be part of the club and the event after [she died]."
The walk brings together a group of people who believe strongly in this issue. At the event, supporters can donate and raise money for the cause, which is why many of the members of the club recognize the event's importance. "I think everybody is just looking forward to the sense of community and how everybody is just here for this common goal," Elman said. "They're all just so excited to find a cure, and every year we get closer and closer."