A new form of watching football highlights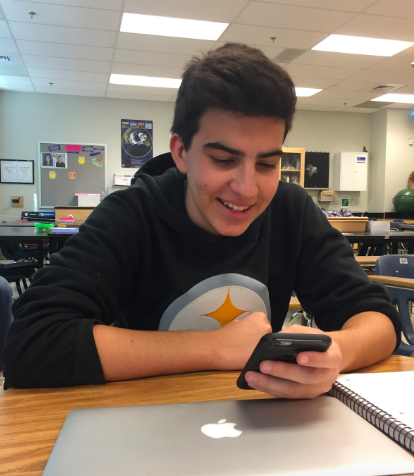 Henry Alves gets home from school, eagerly starting work on his latest Steelers video. Tens of thousands of followers are waiting, monitoring their Instagram feed. He has gone through this routine hundreds of times, created hundreds of football posts, and soon he will have completed the process once more. Alves' account, @holyjukez will soon be getting a brand new football highlight video.
Alves, a junior at the school, has been a football fan for as long as he can remember. Exposure to his dad's digital marketing helped lead to the creation of @holyjukez, an Instagram account with over 55 thousand followers and millions of video views. One of his more recent posts is of Ryan Shazier returning to Paul Brown Stadium after suffering a spinal contusion in December 2017.
"Shazier was one of my favorite players because of his speed and playmaking ability," said Alves. "It sucked when he got injured and probably won't play football again but he's making great progress and it's great that he still has a presence with the team."
Alves started an account in December 2016, but did not frequently post. He resumed in May 2017, when @holyjukez was created. The account was initially centered around a mix of football and basketball videos that involved a particularly great play from a recent game. Alves' videos have since evolved to include almost entirely football posts. The inspiration for creating his content derives from his love for football and video creation.
"I've always liked watching football…I like watching NFL films, and I've always kind of liked making videos," Alves said. "It hasn't always been football highlight videos but I just kind of like making, editing videos and since I like football, I was like, 'okay, I'll try this out.'"
Along with the football highlight posts he makes, Alves also has to manage his schoolwork and stay on top of his studies. His posts take about an hour each to create, and he often stays up late in order to find time for a balance between school and his account.
"There's a certain window when I can post my videos…which is between eight p.m. and nine p.m. during the week. That means I have to make two videos every day before that time," Alves said. "I push off school work until I finish with the videos, which has kept me up late but I have more opportunities to do schoolwork than I do to post. If I have a big test or a massive amount of homework I'll take a day off from videos."Junior Carsten Schoer was intrigued by the production and the amount of content pushed out to the platform.
"There's at least one post every day, usually two, and they're always edited really well," Schoer said.
Henry Alves' father, Mark Alves stated that his middle son mostly taught himself how to produce his own videos. Henry Alves even presented the achievements he has experienced with @holyjukez at a digital marketing meet-up in February 2018 that his father was a part of.
"I brought him to a digital marketing meet-up in [the district]. We usually have a few speakers who talk about some aspect of digital marketing, so he presented the success he had with Instagram and, it was very well received," Mark Alves said. "Sometimes the speakers get a few questions, sometimes they don't get any. He got a ton of questions; everyone was really interested in learning more about what he did."
Alves' work has even been taken by Steelers wide receiver Antonio Brown.
"Antonio Brown stole my video once…I made a video [in January] inspired by his recovery process, my video got 80,000 views…I'm on instagram and all of a sudden I see that Antonio Brown posted this video, and I'm like, 'dude it's my video!'…He cropped my watermark out of the video and didn't give me credit or anything and his video's almost at two million views…that was cool, to have one of my favorite players and one of the best players in the NFL repost your video."
Leave a Comment